According to The Association for Convenience and Fuel Retailing, which owns and runs the show, a large part of this growth in participation was due to a strong surge in buyers – retailers, convenience distributors and registrations from NACS Show partner the Petroleum Equipment Institute – that topped out at 9,095, a 7 percent increase compared to 2017.
In fact, overall buyer attendance has been up 10.5 percent over the past two years, they added.
The NACS expo also set a size record of 431,800 net square feet, up from the previous record-setting expo of 425,800 net sq. ft. in 2017.
The number of exhibiting companies held steady, with more than 1,250 exhibitors participating in the event, including 182 first-time exhibitors in the New Exhibitor area.
Designed to extend the value of the expo, the popular Cool New Products Preview Room showcased 309 new products and services from 194 companies. Using handheld scanners to capture product and booth information, visitors to the Preview Room produced a record 37,874 product scans.
"No matter where you are from or how many stores you operate, if you take one good idea and bring it back to your business from the NACS Show, your business will improve and you will be successful," said Frank Gleeson, president of Aramark Northern Europe and NACS 2018-19 Chairman.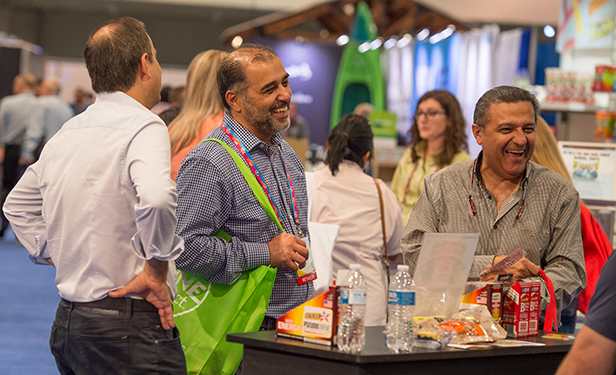 Sharing ideas and solutions was not only a focus of the expo but also the Show's conference that consisted of four general sessions and 64 educational sessions covering relevant industry topics including foodservice and food safety, leadership development, category management, marketing, technology and fuels.
As a reflection of the growing international opportunities offered at NACS, select education sessions were translated into Portuguese and Spanish, with general sessions translated into Portuguese, Spanish and Mandarin Chinese.
In its fifth year, TechEdge at the NACS Show attracted 627 industry technology professionals who participated in the program's specialized education sessions on topics ranging from data security to how to improve overall operational efficiency.
During the event, NACS elected new members to its Retailer and Supplier Boards, including Gleeson, who became the first European-based chairman in the association's 57-year history, and Dave Riser, vice president of external relations at RAI Trade Marketing Services Company, who was named the 2018–19 Chairman of the NACS Supplier Board.
In an effort to give back to the Las Vegas community, NACS and Tyson Foods partnered in donating a truckload of protein totaling 35,000 lbs. on the final day of the Show to Three Square Food Bank, which works to fight hunger in Southern Nevada.